ITVS at SXSW 2015
Posted on March 11, 2015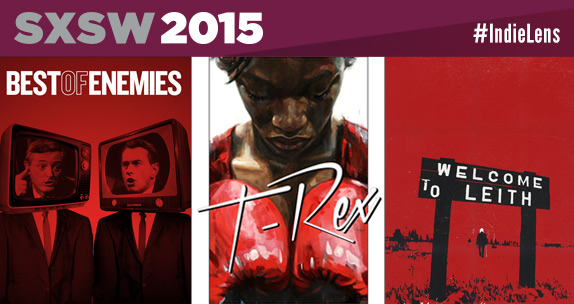 By Elisabeth Copper, @eacopper Social Media Manager
It's that time again! We've packed our bags and are heading out for the craziness that is SxSW. We'll be running around town participating in panels, attending screenings, and meeting with filmmakers, storytellers, and innovators. Will you be joining us in Austin? If so, here are some of the places we'll be.
Film Screenings
We couldn't be more thrilled that three ITVS-support documentaries will be showing at the film festival this year. If you have a Film, Gold, or Platinum badge, here's your chance to preview the documentaries before they appear next season on our Emmy Award-winning series Independent Lens.
T-Rex (World Premiere)
T-Rex is an intimate story about a new kind of American heroine. For the first time, women's boxing is included in the 2012 Olympics. Fighting for gold is 17-year-old Claressa "T-Rex" Shields. From the streets of Flint, Michigan, Claressa is undefeated and utterly confident. Her fierceness extends beyond the ring. She desperately wants to take her family to a better, safer place and winning gold could be her only chance.
Welcome to Leith is chronicles the attempted takeover of a small town in North Dakota by notorious white supremacist Craig Cobb. As his behavior becomes more threatening, tensions soar, and the residents desperately look for ways to expel their unwanted neighbor. The unsettling underpinning of the film is how we wrestle with our democratic principles when they're pushed to the limit.
Best of Enemies is a documentary about the storied debates in 1968 between two great public intellectuals, liberal Gore Vidal and conservative William F. Buckley Jr. Intended as commentary on the issues of their day, these vitriolic and explosive encounters came to define the modern era of public discourse in the media, marking the big bang moment of our contemporary media landscape when spectacle trumped content and argument replaced substance.
PBS will be hosting meet-and-greets with these filmmakers at the PBS Anywhere Lounge. Best of Enemies and T-Rex will in the Lounge on Saturday at 4pm, and Welcome to Leith producers will be in attendance Monday from 4:30pm-5:30pm.
Panels
Finding a TV Partner in a Digital World
Monday, March 16th 12:30pm-1:30pm
In the digital era of Netflix, Hulu, Vudu, and many other OTT portals, how valuable is a broadcaster for your doc? Come find out at this panel moderated by Elizabeth Sheldon, SVP Kino Lorber, along with Lois Vossen from Independent Lens, Jill Burkhart of EPIX Documentary Programming, Cynthia Kane of Al Jazeera, and Jennie Morris from Participant Media.
Tool-Kit for Crafting an Interactive Documentary
Monday, March 16th 12:30pm-1:30pm Filmmaker Andrew Beck Grace and Toronto-based Helios Design Labs worked remotely for six months to produce the interactive documentary essay "After the Storm." By using this project as a test-case, this session, featuring Cathy Fisher from ITVS, will present a tool-kit of ideas for other creators in the medium while exploring the how and why of interactive, web-native nonfiction storytelling.
Doc Distribution: Get Up to Speed with PBS Indies
Tuesday, March 17th 11:00AM-12:00PM Are you a filmmaker interested in showcasing your film on PBS? Then you don't want to miss this panel. Filmmakers Byron Hurt, Yance Ford, and Marshall Curry will be joined by Donald Thoms (VP Programming/General Audience; PBS) and Liz Cheng (GM; World Channel) to share why public media might be the distribution channel you've been searching for.
What's the Value of Your Digital Rights?
Tuesday, March 17th 12:30pm-1:30pm
Learn from industry experts, including ITVS's Isaac Hager, how much digital rights are worth to filmmakers and distributors launching titles on outlets such as iTunes, Amazon, and Netflix. You'll walk away from this session with insight into which platforms are winning in the battle for viewer attention, as well as a greater understanding of the deal structures and windowing strategies negotiated as part of these licensing deals.
Who's Going to Fund Your Webseries?
Tuesday, March 17th 12:30pm-1:30pm
Meet the industry leaders, including ITVS's Karim Ahmad, developing, funding, and supporting independent web series in new ways, paving the way for creators of bold new episodic content online. We'll discuss what they look for, how their programs work, and talk with veteran creators about their development strategy, and what are the opportunities for web series in today's digital landscape.
PBS Party at the Parish
The annual PBS party is one we look forward to every year. On March 15th at 9pm, come help us celebrate independent film on PBS with drinks, BBQ, and live music by Best Coast.
Can't make it to Austin this year? We'll be capturing all of the madness on Twitter and Instagram so be sure to follow along!
Topics
From our blog
August 10, 2023

ITVS is pleased to welcome Brandii Rice as our new Head of Business and Legal Affairs. In her role Rice will oversee business and legal affairs across the ITVS brand portfolio. In addition, she will guide licensing and business strategies to support ITVS' content development, production, distribution and audience development goals. She will join ITVS…

June 7, 2023

Carrie Lozano joins ITVS from the Sundance Institute, where she served as director of Documentary Film and Artist Programs, supporting boundary-breaking filmmakers across the globe. At ITVS, she will continue to protect independent artists' voices, editorial control and copyright while elevating nonfiction storytelling as an essential strategy…

June 1, 2023

Discover how Lisa Tawil's appointment to the International Board of INPUT strengthens worldwide collaboration in public media.