In Football We Trust
The Polynesian football pipeline reaches from the Islands to Utah via the Mormon Church — and beyond there to the NFL.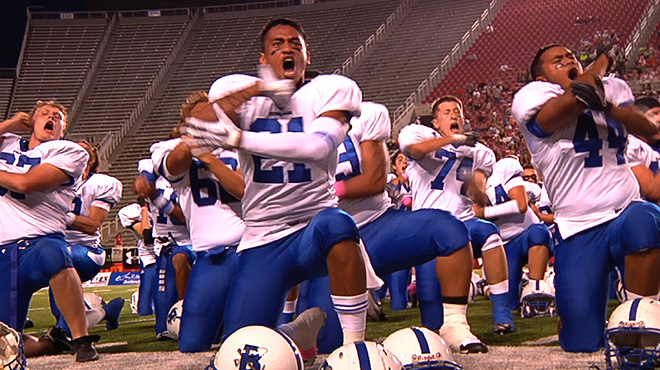 Series

Independent Lens

Premiere Date

January 25, 2016

Length

90 minutes

Funding Initiative

Open Call
Award
2016 News and Documentary Emmy Awards-Outstanding Business and Economic Documentary
Director
Tony
Vainuku
Tony Vainuku's first career aspirations began on the field, as a budding professional football player from Salt Lake City, UT. Years later, after his prospects of playing professional ball dead-ended, Tony was introduced to music video production, which he immediately fell in love with. He enrolled at Westminster College, UT to explore film production… Show more and found his niche in writing and storytelling. After graduating with a B.S. in Business Marketing, Tony founded a multi-media company, Soul Profile Productions, featuring in local sport promotions, wedding videos, web ads, and promos. In 2002, Tony produced and shot his first film, Makaveli, a music video themed short. Tony has since written a variety of TV concepts, short scripts, and documentaries. In addition, Tony launched the Soulpro clothing line. Show less
Producer/Co-Director
Erika
Cohn
Erika Cohn is an Emmy award winning director/producer who Variety recognized as one of 2017's top ten documentary filmmakers. Most recently, Erika completed The Judge, a film about the first woman judge to be appointed to the Middle East's Shari'a courts, which premiered at the 2017 Toronto International Film Festival and will be broadcast on PBS' 2018 Independent Lens… Show more series. Erika co-directed/produced, In Football We Trust, an Emmy award-winning, feature documentary about the unique faith and culture that ultimately drives young Pacific Islander men into the NFL, which premiered at the 2015 Sundance Film Festival and was broadcast on PBS' 2016 Independent Lens series. Her work has been supported by IFP, the Sundance Institute, Tribeca Institute, Hot Docs, Sheffield, ITVS, Women in Film, BAVC and the CPB Producer's Academy among others. In 2013, Erika founded Idle Wild Films, Inc., which has released three feature documentaries and produced numerous branded content and commercial spots, including Gatorade's Win from Within series, for which she received a 2016 Webby award nomination. Erika is also an avid photographer and served as a U.S. Ambassadorial Film Scholar to Israel/Palestine. Show less
We fund untold stories for public media.
Learn more about funding opportunities with ITVS.
The Film
Polynesians are changing high school, college, and professional football. Their sheer physicality, speed, and agility have set new thresholds in athleticism. In Football We Trust chronicles the journey of young Polynesian-American men in Utah, as they transform out of their adolescence, striving to take warrior culture to the next level — through American football. The film follows the genealogy of Polynesian football, the Utah pipeline, and the profound ways their loyalty, rituals, passion, and ferocity have changed the game and the fan base of football.
Topics